App Preview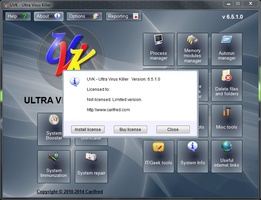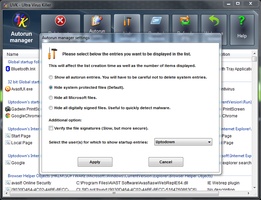 App Name

UVK – Ultra Virus Killer


Description:
Scan, clean, and eliminate malware from your PC
Version:
10.20.2.0
Operating System:
Microsoft Windows
Requirements:
Added date:
May 25th, 2021
License:
Trial
Author:
Carifred

Overview:

UVK – Ultra Virus Killer is a handy tool designed to protect your computer through its many different functions, like blocking threats, repairing, cleaning, and optimizing every corner of Windows.

This antivirus software can detect and eliminate any and all malware thanks to its suite of maintenance tools, accessing at a single click any of 12 basic applications for improving your computer's performance, such as an auto executable file manager, a processes administration panel, a registry analysis, etc.

UVK – Ultra Virus Killer also prevents the accumulation of unauthorized toolbars and search engines on your browser and homepage, as well as other settings you usually don't handle manually.

UVK – Ultra Virus Killer also has options for doing backups, restoring the Windows registry, and deleting trash files and folders.