App Preview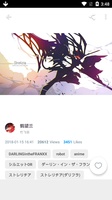 App Name

pixiv


Description:
The official app of this popular manga community
Version:
6.20.0
Operating System:
Android
Requirements:
Android
Added date:
Aug 17th, 2021
License:
Free
Author:
pixiv Inc

Overview:

pixiv is the official app of this popular community focused around manga in which more than 20 million users get together to share their masterpieces and comments. It's basically a place where the manga fans can give and receive feedback on any of their works.

In order to use pixiv you'll need to have a user account. If you already have an account, you'll just have to identify yourself but if you don't have one, you'll have to create it using the app and it takes just a few seconds. Once you've got your account, you can be part of the community.

The design of the app is simple. All the content is divided into three tabs: illustrations, manga and novels. You can take a look at the content in each tab, check any of the images in full quality, 'like' and leave comments.

pixiv is a great official app of a colossal community where hundreds of thousands of artists share their work to get feedback.