App Preview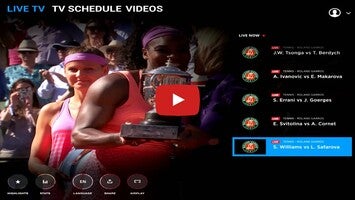 App Name

Eurosport Player


Description:
Watch all that Eurosport has to offer on your smartphone
Version:
8.12.1
Operating System:
Android
Requirements:
Android
Added date:
Aug 21st, 2021
License:
Free
Author:
Eurosport

Overview:

Eurosport Player is Eurosport's official app, that makes it possible to keep up with your favorite sports right from your Android device. With this app, you can watch practically any game you want without having to search through TV channels or look online.

Eurosport Player's interface is very easy to use, and all of its content is organized by sport. Just select your favorite sport to get all the latest news, watch videos about the athletes, or watch competitions and matches. This app even lets you create a list with all your favorite sports, and will notify you whenever there's new content available on them. This way, you'll never miss a game again.

One of Eurosport Player's more interesting features is it's 'live' tab, where you can access live broadcasts of currently playing games covered by Eurosport. Just choose an option from the list to enjoy live TV right from your Android device, or cast it to a Smart TV. During each game, you can change the language to enjoy your favorite sport in your native language, as well as take a look at the game's statistics.

If you're a Eurosport user, or just don't want to miss an important match ever again, try this great app and watch all that Eurosport has to offer, anytime and anywhere.