App Preview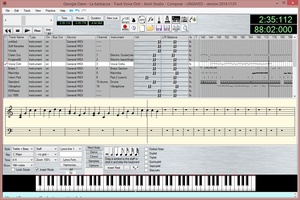 App Name

Anvil Studio


Description:
Compose and record music in MIDI format
Version:
2020.12.03
Operating System:
Microsoft Windows
Requirements:
Added date:
Mar 26th, 2021
License:
Free
Author:
Willow Software

Overview:

Anvil Studio is a music composition tool focused on those users who want to compose, record and play MIDI audio files.

The program allows you to work with all kind of digital instruments. That means you'll be able to play the piano on screen if you want.

In addition, you can copy and paste parts of any track in an easy way.

Anvil Studio offers many advantages and a good bunch of features and options.

Anvil Studio is a full-featured MIDI audio file composition tool, full of possibilities and with a simple and easy-to-use interface.